2015 Michelin InTIREnational Art Contest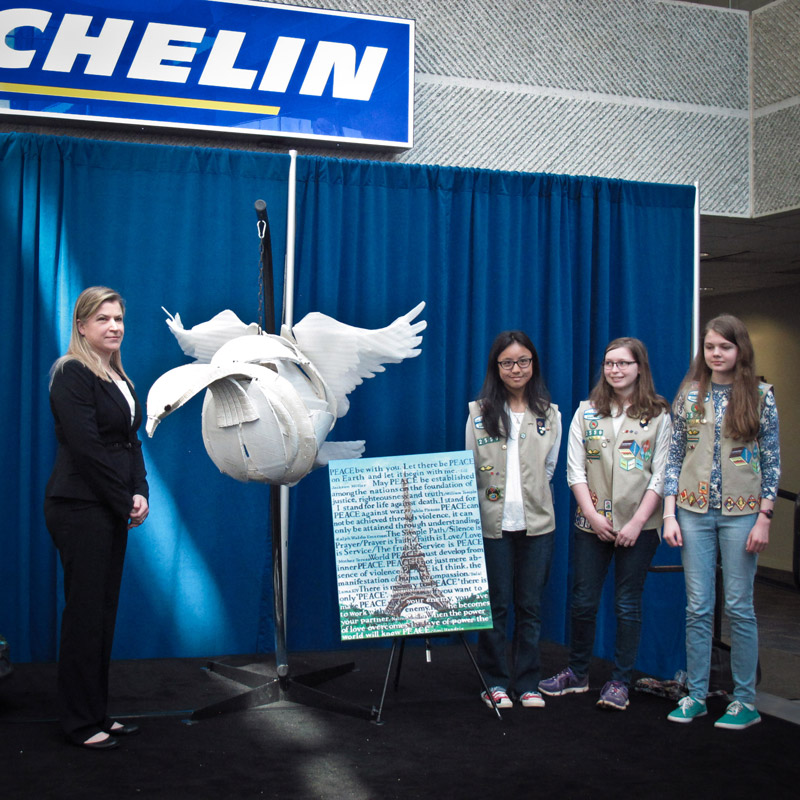 I was honored today to receive the Judge's Choice Award in the 2015 Michelin inTIREnational Art Contest. The contest, hosted as part of Upstate International month, challenged "local artists, schools of all grades, organizations and community teams to take up to four scrap tires from Michelin and create works of art that celebrate the diverse, international culture of the region."
For my entry this year, I chose to create a dove (the international symbol of peace) to send a message of peace and healing in the wake of the Charlie Hebdo attacks in Paris, France. Accompanying the tire sculpture is a painting of the Eiffel Tower with several inspirational quotes from famous humanitarians and artists.
I chose Girl Scout Troop 2559 as my charitable recipient this year. Girl Scouting builds girls of courage, confidence, and character, who make the world a better place. The girls are beginning their two year leadership journeys to attain the Girl Scout Gold Award, the highest award in Girl Scouting, and the $5,000 donation from Michelin will be used to purchase supplies needed to accomplish their "Take Action" projects, which benefit the local community while building the girls' organizational, leadership, and networking skills.
Read more about the contest in the Greenville News, where you can also see a photo gallery from the awards ceremony that features many of the other entries from talented Upstate artists . Thanks again to Michelin and Upstate International for this wonderful opportunity.